Top 18 Common Email Marketing Mistakes (and What to do About Them)
The following are some common email marketing mistakes that I have made and seen others make in the past.
Fortunately for you, you have found this page and *fingers crossed* will learn from my and others errors.
Whether you are beginning at email marketing or a seasoned professional, this list of common email marketing mistakes will be a helpful resource to reference.
Email marketing has always been essential to building an audience, selling products, and growing your business.
To ensure your efforts are most effective, here are some major pitfalls you could encounter and what to do about it.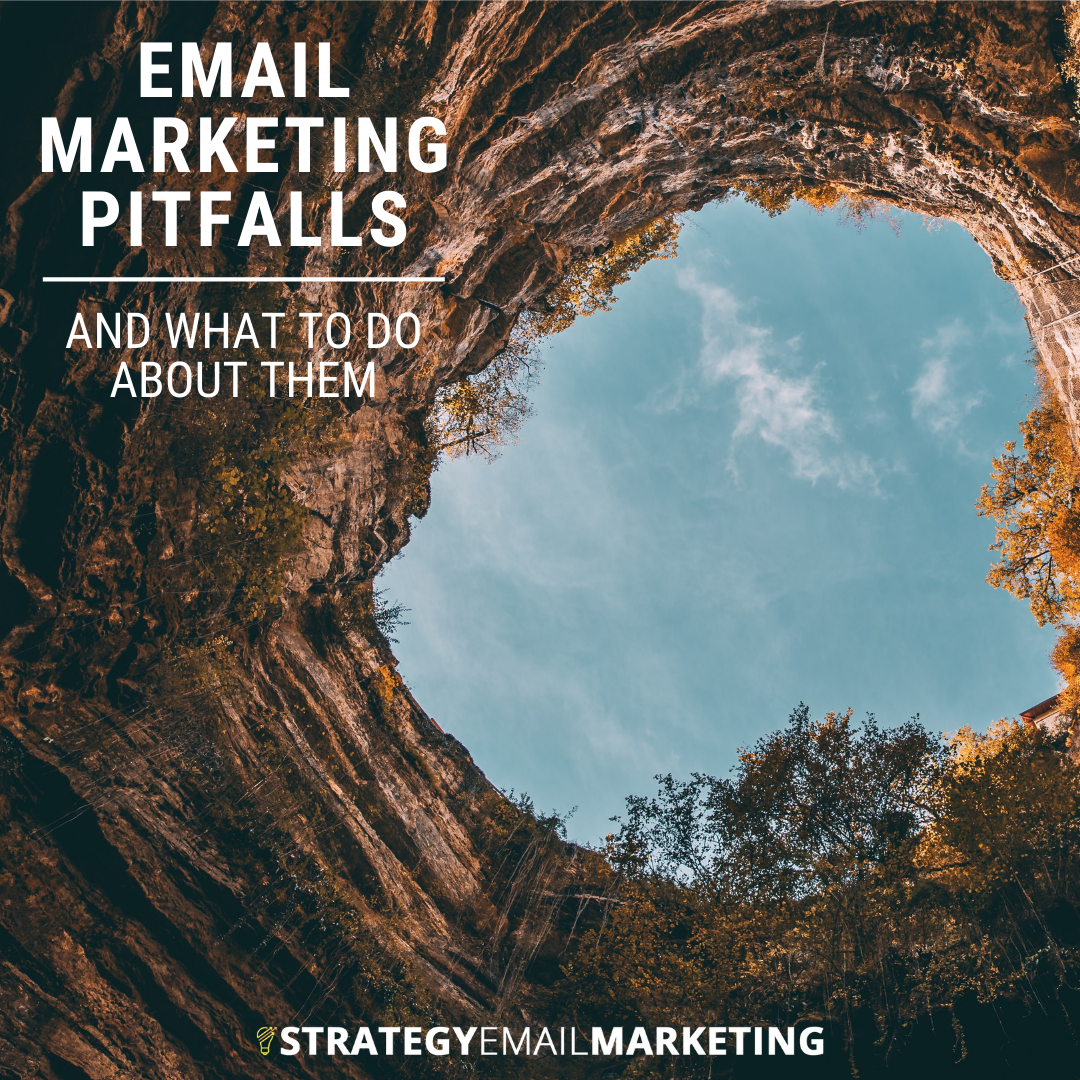 18. Sending too little or too much
---
This is a mistake I encounter often and it's one I've made in the past.
When I learned about and began email marketing in 2012, one of my first thoughts was "What am I going to send to my subscribers?" but I wondered "How often do I send to them?" even more.
If you don't send often enough, your subscribers won't be used to getting emails from you regularly, which means they aren't watching for them, which means they won't be seen.
When that happens, your emails will eventually end up in the spam or junk folder because they're not being interacted with.
If you send too much, you run the risk of subscribers being overwhelmed with too many messages from you which may cause them to unsubscribe.
Essentially, you're darned if you do, darned if you don't.
Solution
Ultimately, you will need to test this and you can do so in two ways.
Start gradually and build up to multiple times a week by paying attention to unsubscribes and/or complaints.

Or, survey your subscriber about how often is "too often" for you to send.

Research shows that sending email more often DID NOT increase unsubscribes, but that will vary based upon the reputation you have with your subscribers.

I suggest sending one time per week or at a minimum of two times per month.
Personally, I send 3-5 times per week, but this is something you can work up to over time.

Return to Top of Common Email Marketing Mistakes


17. Assuming you have permission to send
---
I don't know about you but my mom always taught me that assuming makes an "ass" out of "u" and "me", put the 3 together and what do you get!
Like assuming anything else in life, doing it when email marketing will negatively affect your results.
Just because someone gives you their business card, adds their email to their profile in a professional database, or even buys your product, doesn't mean they want you to start or continue emailing them.
And don't even get me started on buying an email list! 😂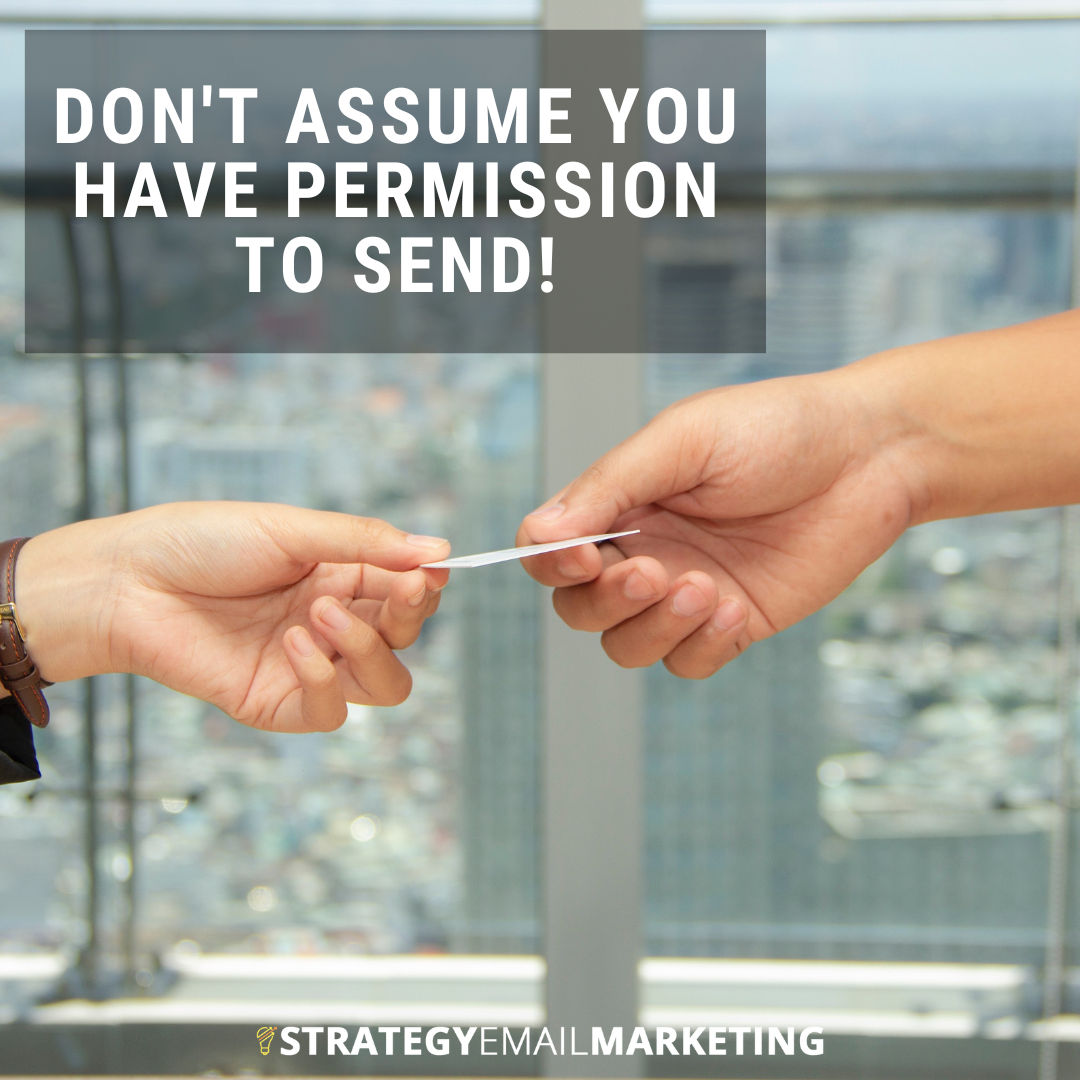 Solution
As a business sending email to more than one person, it is crucial that you have subscribers permission.
In the world of email marketing we call this permission based or opt-in, which generally means that a person gives you their email address because they want to hear from you.
The goal of email marketing is to build relationships with your subscribers and sending to them without permission will do the opposite of that.
If you send mass email without permission from your subscriber, you will be flagged as spam, get complaints, your messages won't make it to the inbox, and you'll waste time and money.
Collect email addresses using double opt-in forms or for e-commerce, have a checkbox that customers can check that asks if they'd like to receive emails from you.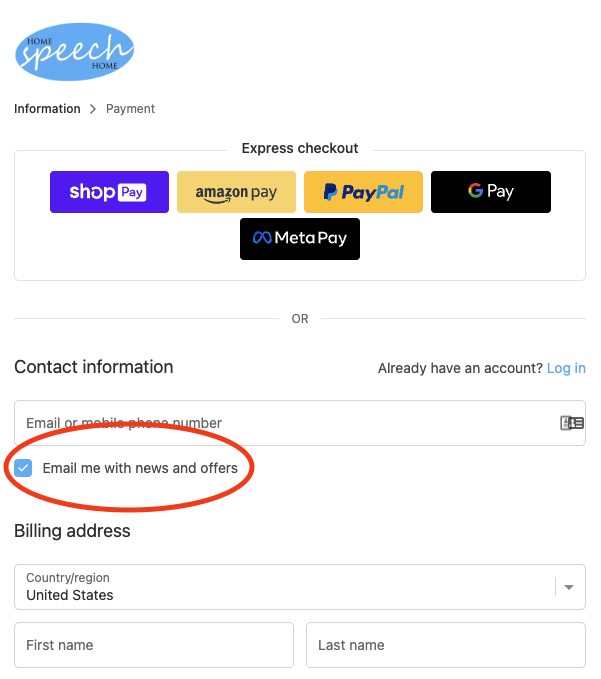 Then, set up an automated welcome email campaign to engage your subscriber, let them know how often you will send to them, and what they can expect from the emails you'll send.

16. Sending untimely messages
---
There is research that suggests the best days and times to send but ultimately, your audience may be different.

If you're creating content for your website, business, or social media, it's likely that you share the same interests and schedule as the audience you are creating content for.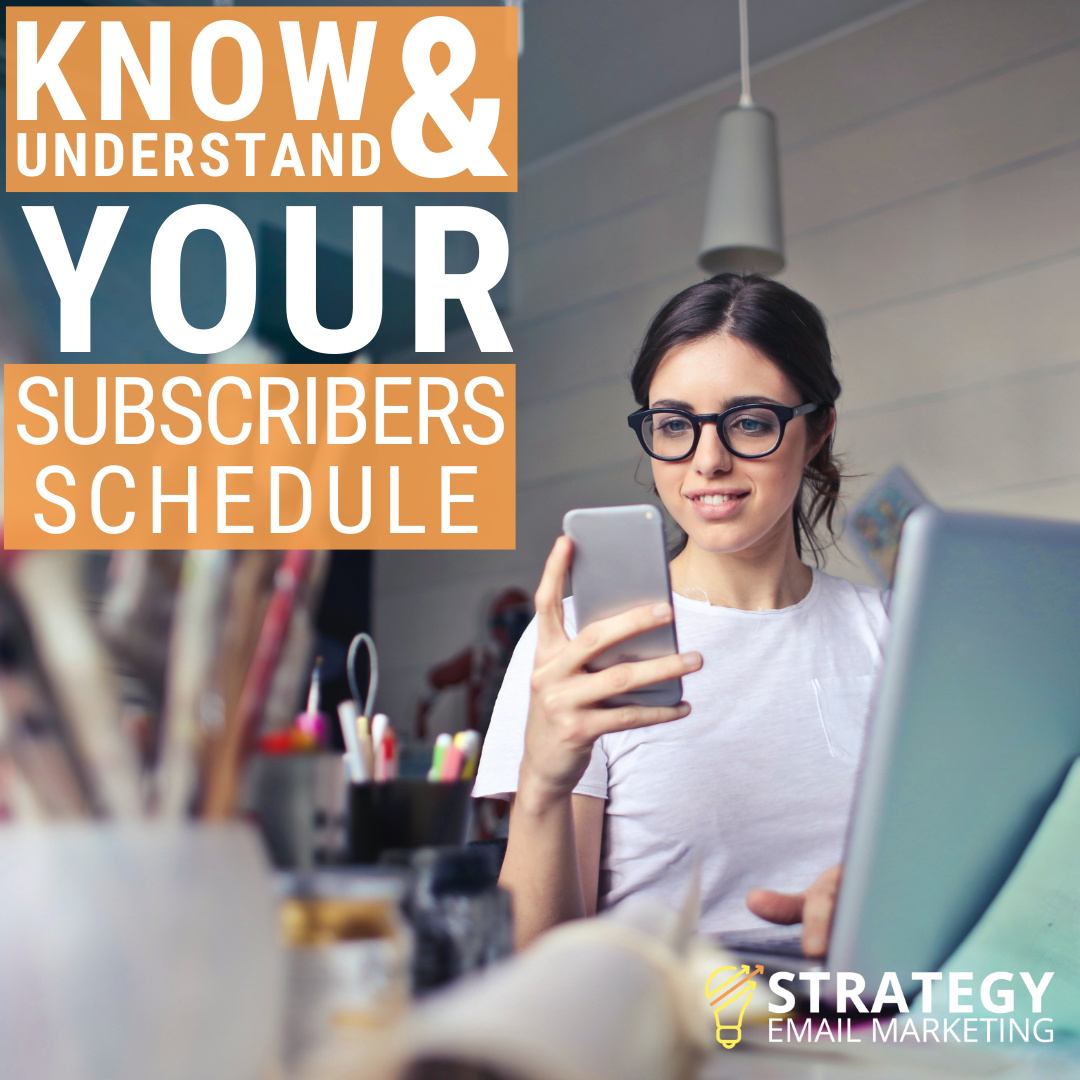 Knowing and understanding their schedule is key when it comes to sending email marketing messages.

If you're not sending your emails at times that your audience has time to check it, they aren't going to be seen.
Solution
Look at Google or Facebook Analytics to determine when your audience is visiting your site or viewing your social media posts.
Write down what your weekly schedule looks like and find spaces in it where you would be on your phone.
Start sending emails during those times and see which are most effective.

If your schedule is different than your audiences, simply test sending your emails at different days and times and see which ones yield the most engagement.
Don't be afraid to try weird times and be sure to track with a spreadsheet.

Return to Top of Common Email Marketing Mistakes


15. Sending from a free email address
---
This may seem like an insignificant detail but I assure you it's not.
If you think about it, anyone can sign up for a free email address from a free email service provider.
Spammers do this all the time, buy an email list, then you guessed it, start mass emailing people without permission.
Email service providers have greatly improved and are constantly updating their algorithms to eliminate this type of annoying idiocy.

Sending mass email with a free email address is about as effective as trying to boil a frog by throwing it into a pot of boiling water.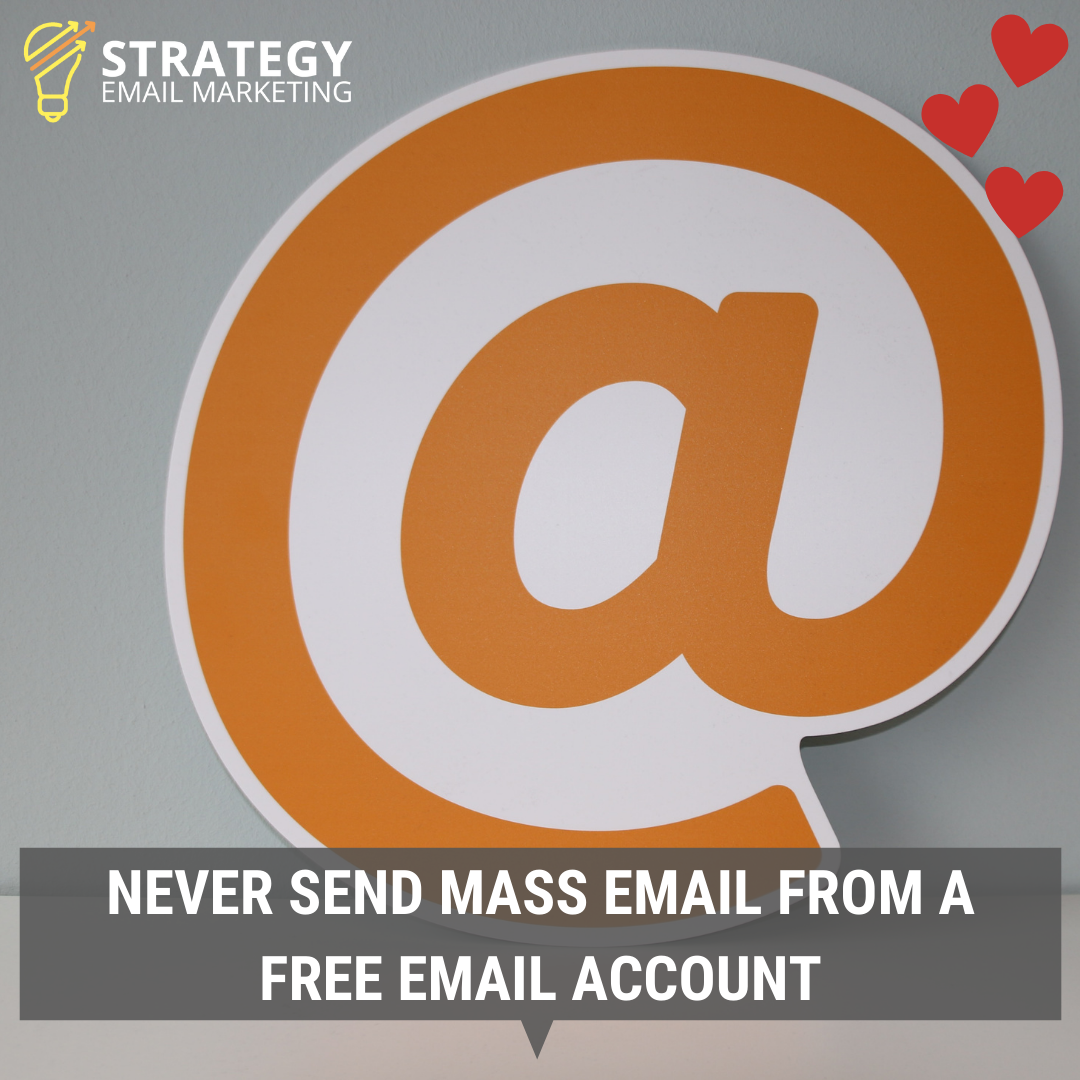 Solution
When you run a business, the least you can do is send email with your domain name on the end of the address.
Always send from yourname@yourdomain.com.
Once you set your website up you will often have email included (or pay a little extra for it).
If this isn't offered, or is too complicated for you to set up (mine was), use something like Google Workspace to get it ironed out for you.
Trust me when I say, you don't want to compromise on this!
14. Having a "Dirty" list 
---
Before your mind wanders, let me explain 😉
Practicing good list hygiene (a.k.a. keeping your list "clean") means regularly trying to reengage cold subscribers and removing dead subscribers.
If the subscribers on your list don't open, scroll, reply, forward, or click in your emails they are more likely to end up in junk or spam because it shows algorithms that your subscriber doesn't want to interact with your email.
Sending to subscribers who don't interact over time will decrease your deliverability which is bad for both you and your reader.
Solution
Find the cold subscribers on your list and send them a reengagement sequence.
Set up an automation to tag them as a dead subscriber if they don't interact with the sequence.
Then every few weeks go in and remove those addresses from your account.
It can be painful to do, but when your open, click through, and deliverability rates go up…
...you'll be glad you did.

Return to Top of Common Email Marketing Mistakes


13. Trapping your subscriber
---
Not giving a subscriber an obvious way (or any way) to remove themself from your list is not only frustrating, it's illegal and doesn't comply with the CAN-SPAM act.
If you rub the wrong person the right way and they come after you, you can be fined for not giving your subscriber a way to opt out of/unsubscribe from your emails.
Solution
Find a legitimate email marketing service to use or check that your current service provides this option, then enable it and send a test email to yourself to ensure there is an option for your subscriber to "Unsubscribe".

My email marketing service has this built in and any legitimate service should, but it's still a good idea to check if yours does.
12. Letting subscribers "figure things out" on their own
---
Whether it's in your buttons, subject lines, body copy, social media posts, videos, or links, not having a clear call to action (CTA) is one of the most common email marketing mistakes you can make.
When you want a subscriber to take a specific action, it is your job to set them up for success by explaining (simply) what they need to do and then leading them where you want them to go.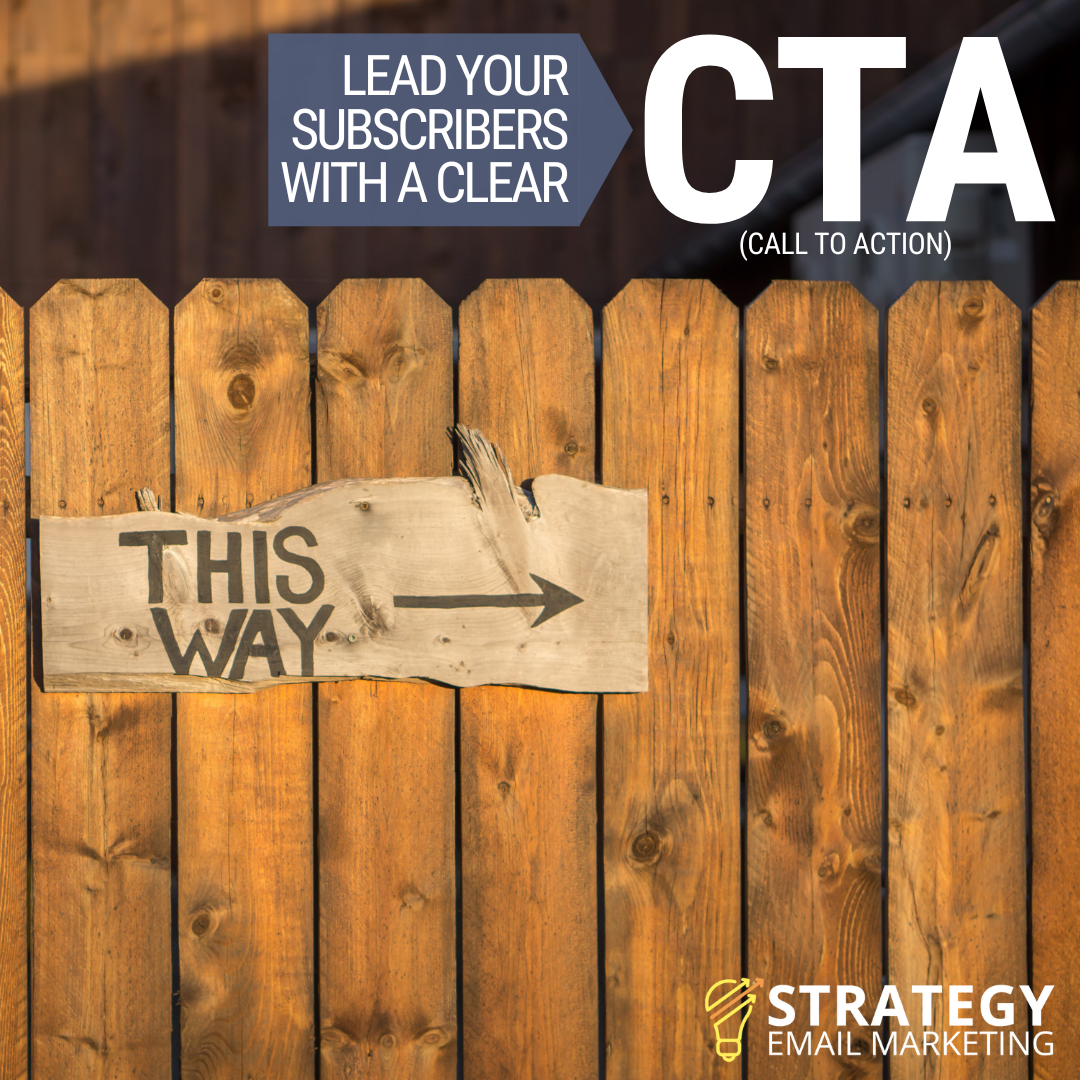 It can be tempting to tell your subscriber about all of the things you offer that can benefit them or ask for too much information from them (though this can be Ok if you're trying to hyper-qualify your lead).

The problem with this is if you give them too many options they will get overwhelmed, or distracted, or both, and not choose any of them.
According to SuperOffice, having a "clear and relevant message…makes it easy for customers to buy from you".
Solution
To get subscribers to take action you need to focus on one outcome and have them focus on one thing to do.
We can learn a lot by looking at landing pages.
They give us the best examples of clear calls to action.
They have persuasive copy written on them or in video format, with a form field or two, and a button to click to submit their information…
…and that's it!
Any other elements (links, lists of blog posts, lots of images, social icons, etc.) are simply things for your subscriber to get distracted with and not complete the action you want them to take, so they are removed.
In addition to having a clear CTA, use language that describes the value subscribers will get when they click your buttons and links.
For example:

When a user submits their email address on your form, the button text could say "Submit" or "Show Me How to be Successful with Email Marketing", which one sounds more appealing to you?
The latter one right?!
Every call to action needs to be simple, clearly explain what you want your Subscriber to do, and be obvious how to do it.

Return to Top of Common Email Marketing Mistakes


11. Sending the same type of content to all subscribers all the time
---
We live in a time that online companies, social media sites, and agencies track and use our data to more accurately and predictably sell to us.
Generic marketing messages and advertisements are less effective vs. more specific ones.
When you build a list of subscribers or "Tribe", they will share one common interest with you and each other (hence why they joined your list) BUT, they will have different backgrounds, preferences, schedules, and more, that are unique to smaller subsets.
Sending the same content in the same way all the time is a mistake and will decrease interest, engagement, and ultimately deliverability.
Solution
People expect (whether consciously or subconsciously) both free and paid messages to be more customized to them.
In order to create messages that will provide maximum value to you and them, it is essential that you personalize your messages.

Doing this will help you better understand and serve your tribe members while increasing your clout and results.
Another layer to this is split testing different types of content and elements to figure out your subscribers preferences.

10. Personalizing tooooooo much
---
Not personalizing enough can be a problem but over using personalization is also a common email marketing mistake I have seen (and experienced) before.
Using your subscribers name in the title or body multiple times or too often in back to back campaigns isn't going to do you any favors.
Using it is an excellent way to get their attention in the inbox and in the body but like some medication, overusing it can weaken its effectiveness.
This is especially true if your subscriber happens to type their full name in the "First Name" field on accident when signing up.
The next time I get an email that says "Hello Luke Barber" it's an instant reminder that the message is coming from a mailing list no matter how personal it might seem.
Beware of making the mistake of using RE: or FWD: in your subject lines.
Like using the first name this was a fabulous tactic that was used (and abused) in the past until algorithms improved and people got saturated with it.
Finally, frequently using "Hi", "Hey", or "Howdy" in your subject lines often can backfire on you. It may boost your open rates in the short term but it will erode trust with your subscribers and damage your "sender reputation".

Just getting subscribers to open email is like posting social media content just to get likes…
…a poor long term strategy.
Solution
These strategies can still work mind you, but I encourage you to use them sparingly.
Using them regularly will cause more unsubscribes, lower deliverability, or both.

Return to Top of Common Email Marketing Mistakes


9. Being too "secretive"
---
Some people don't mind a "healthy" amount of risk, but most people (especially someone who willingly gives you their personal information [email address]) like to know exactly what will happen if they give you their email address and what you'll do with it.
Solution
On your sign up forms, rather than say "No SPAM ever", assure them that their information is 100% private and never shared.
Link to a page of email broadcasts you've sent in the past so they know what to expect.
On your dedicated subscribe page explain what type of content you will send and how often and emphasize the value they will receive from you sending to them.

Continue Reading on page 2 about the remaining
8 Email Marketing Mistakes and What to do About Them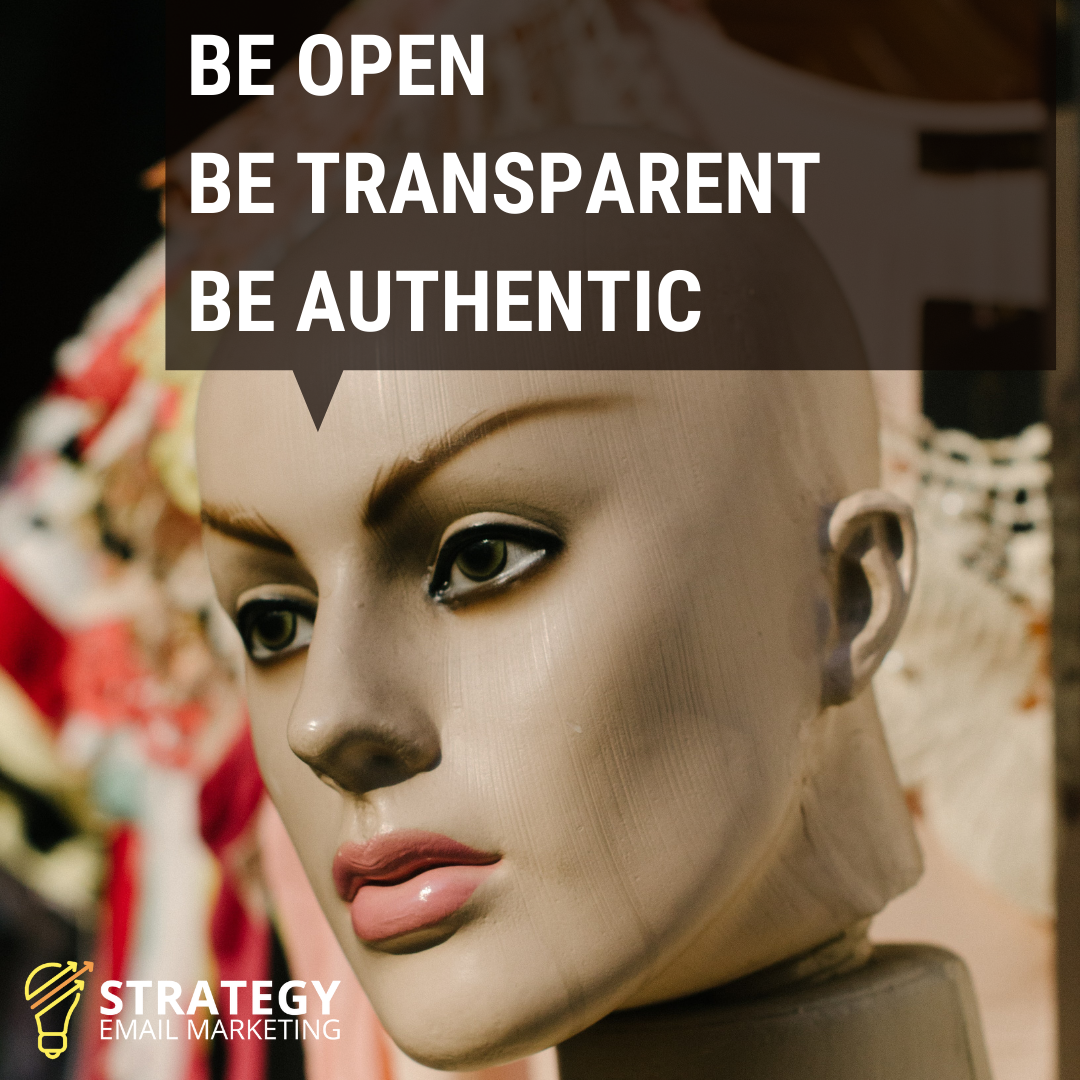 Return to Top of Common Email Marketing Mistakes


If you found this helpful, please share it and join our
free Email Marketing Wisdom Digest for more.


---
---