Email Marketing for Beginners:
Your Online Guide to Success - Part 1

Teaching email marketing for beginners is a subject I am very passionate about. Email marketing has been the lifeblood of my website and kept me in business since 2015.
I'm guessing you're already familiar with the almost endless list of benefits to having your own email list to communicate with your readers or you probably wouldn't be here.
Aside from the benefit of building relationships, driving traffic, high return on investment, targeting, automation, personalization, and measurable results, the single reason I advocate so strongly for email is because…

…you own your list.
You don't own your Facebook, Twitter, LinkedIN, Youtube, Snapchat, TikTok, Rumble, or Instagram followings…
…those platforms do.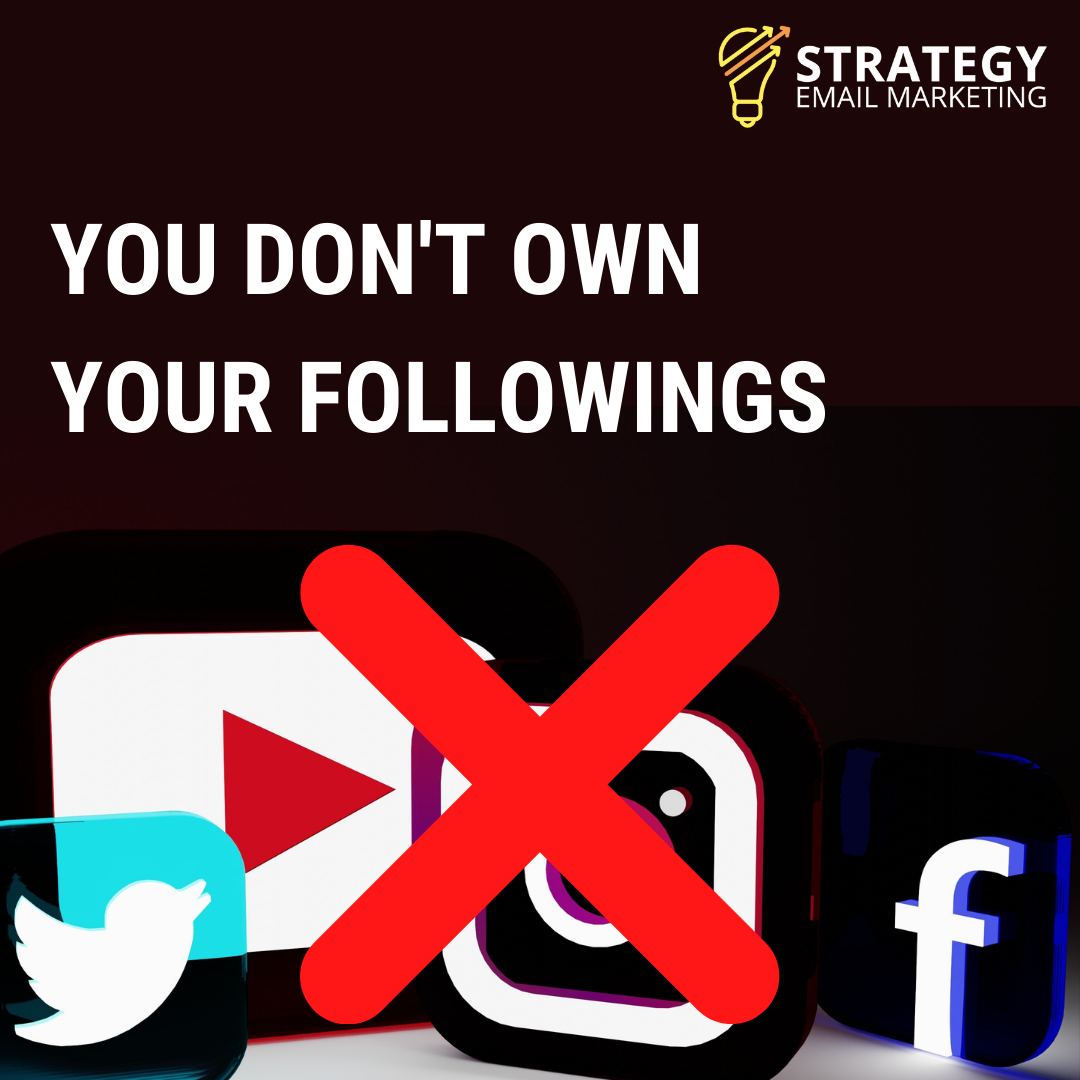 And they can change their policies or guidelines or your standing with them whenever they want...without your permission.

There is a reason that entrepreneurs and business owners of all shapes and sizes, spend tens of millions of dollars on those platforms to drive you to their websites…
…and that is usually to get an email address.
Whether you own a blog or website (like me), run a small business, or a large business, your email list will be one of your most valuable assets.
But in order to unleash the full potential of email marketing you must do it correctly.

The following "Success Steps" are essential for email marketing for beginners and will get you started with the basic things you need to start email marketing today!
Avoid using them at your own risk!
Return to Top of Email Marketing for Beginners



Email Marketing for Beginners Online Guide
Success Step 1
Know the Terminology
---
Automation - any process that you set up with software or people to complete a repetitive activity. 
Broadcast - a broadcast is a one time send to your list or specific group of contacts. 

Email Subscriber - a person who gives you their email address and wants to receive emails from you. 

Sequence - a set of content specific emails that are automated to be sent after a subscriber completes an action (ex. Welcome Sequence, Sales Sequence). 
Open Rate - the percentage of subscribers who open an individual email you send. 
Click Through Rate (CTR) - the percentage of subscribers who click on a link (engage) in an individual email you send. 
Lead Magnet / Bait / Incentive - anything given in exchange for a subscribers email address. (ex. handout, video, eBook)(great list of lead magnet ideas)
Tag - a label that separates subscribers based on an action they have taken.
(A/B) Split Testing - common but powerful way to test the effectiveness of different variations of elements on a landing page, sales page, or sign up form.
Segment - a group of subscribers that have been labeled with more than one tag. 

Landing / Squeeze Page - a dedicated webpage with the single goal of capturing the visitor's email address. On the page, the visitor must either complete the email form or close the window. 
Form - a set of fields where a potential subscriber can provide and submit information (most importantly their contact information such as an email address or phone number) about themselves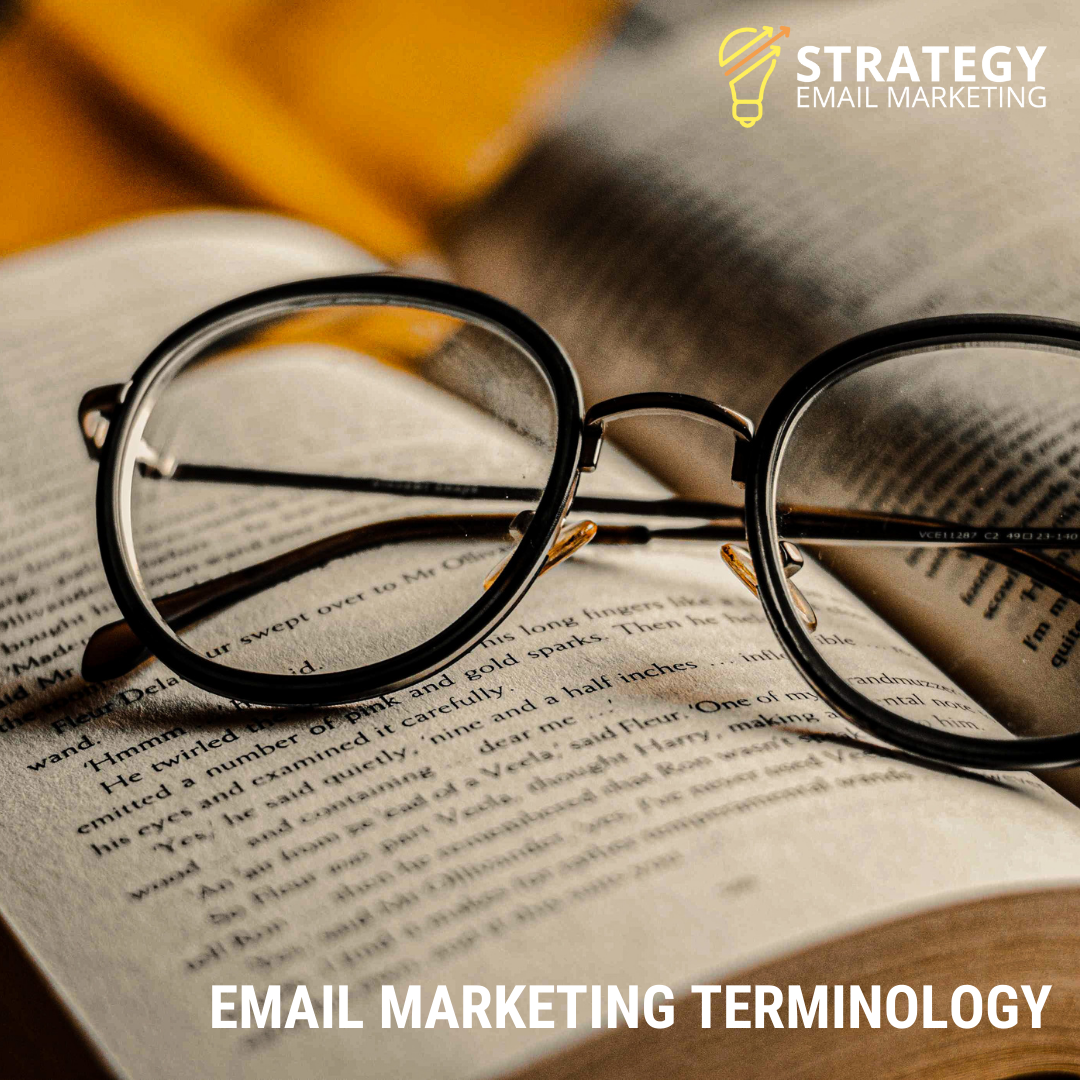 Single Opt In - when a subscriber voluntarily completes a form giving you permission to send them emails. 
Double Opt In - when a subscriber voluntarily completes a form, then completes a 2nd action (like clicking a link) to confirm that they give you permission to send them emails.
Call to Action - a statement that encourages a subscriber to do or act on something you tell them about. 
Subject Line - the 2nd line in an email that appears after the "Sender" line and is considered the title of the email. 

Engagement - when a subscriber opens, reads, clicks, replies, forwards, or shares an email you send them. 
SPAM - any email that is sent to you that you didn't ask for/request
Draft - a saved version of a Broadcast that is still being written or edited and has not been sent yet. 
Unsubscribe - the option to stop receiving email messages from a company sending bulk email messages. 
Blacklist - a list of email senders who are banned from using bulk email service providers. 
Deliverability - the rate at which the emails you send show up in the Inbox. Emails that land in the SPAM or Junk folders are considered to have low or poor deliverability. 
Email Service Provider (ESP) - companies such as Google, Microsoft, or Yahoo, that allow you to send and receive emails to anyone in the world.
Email Marketing Service (EMS) - any software company that allows you to write one email and send it in bulk to a large amount of contacts. 
Return to Top of Email Marketing for Beginners


Success Step 2
Understand What Email Marketing Is
---
Purpose and Goal of Sending Email

There are different purposes for sending email to your readers/potential customers…

Engage
Generate Traffic
Brand (your company)
Sell
Acquire
Retain
Refer
Reactivate
…and there are 3 types of email we send to do these things.
Transactional

Completing a purchase, shipping info, receipt, etc.

Relational

Helpful content, nurture campaigns, lead magnets, etc.

Promotional

Sales announcement, product release, upgrade offer etc.

Knowing your purpose will help you align your email marketing strategy with your goals.
Most always, the goal of sending any email to your reader is to solve their problem and/or provide value to them.

This can come in different forms.
You can send in the form of educating your reader through valuable content, resolving their concerns, and developing interest in new products, or services that can help them (lead generation). 
Your goals for sending email include driving traffic, generating cashflow through sales and upsells, providing customer service, improving retention, or strengthening loyalty.

Only Send with Permission

In order to send email to anyone it is critical that you get permission from them through single or double opt in methods as defined above and explained in this article.
If you want to keep subscribers and eventually customers as long as possible you want them to give you the "OK" to send to them.
Additionally, if you don't get permission and start sending without it, you will find that your deliverability will suffer.
Over time, sending without permission could land you on a blacklist and make it impossible for you to use Email Marketing Services to send mass email, which is a lose-lose for everyone (you, your subscriber, and EMSs).
Be relevant

If I asked you to think about how successful Google is, I think we would both agree that they are pretty successful right?
One thing that has led to their massive success can be summed up in one word…relevance.
If you think about it, Google has one important job to keep people using their search engine and that is: to provide the most relevant information for someone who types a term into their search bar.
When sending mass email it can be tempting to want to send the content we work hard on (or pay good money for) to our entire list…all the time.
Refrain from doing this.
You must learn to segment (discussed more in Step 8) your subscribers based on interest in order to keep engagement high.

Return to Top of Email Marketing for Beginners


Success Step 3
Be Authentic
---
Know Your Audience
People want to connect with people who have the same values as they do.
When you begin emailing people who like your content and want to hear more from you, you've got to be able to walk the walk and talk the talk with them.
One of my favorite books is called "Tribes" by Seth Godin.
In it Seth talks about how people are connected through interests and how to stand out as a leader in a tribe.

You will never establish authority or credibility if you are not a member of the "Tribe" of readers you are sending to.
It is also important to know who your audience is so you send them the right type of content, and at the right time.
Above all, never pretend to be someone you are not.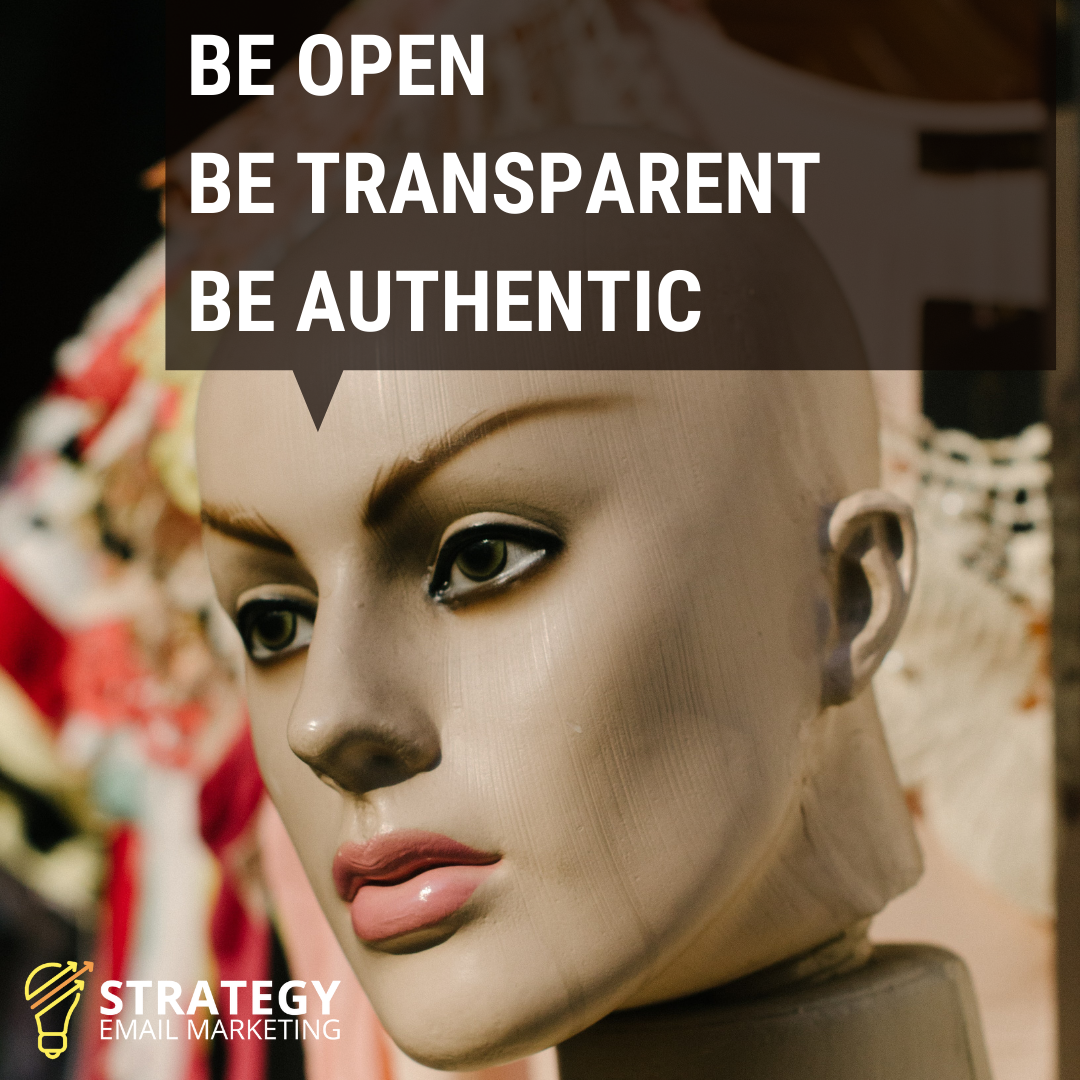 Be authentic

In general, it's in our nature to want to like people, but if you have been online for any amount of time, you have come across those who are downright fake.
Social media sites are littered with users who hide behind fake usernames and profile pictures.
You must do the opposite.
Be open.
Be transparent.
Be authentic.
That doesn't mean: publish your social security number, address, and credit card information. 
It does mean: write the way you talk, show your strengths, and most importantly admit your weaknesses.
No one is perfect and people won't trust you (or buy from you) if you pretend like you are. 
The more you show you're "human" to your readers, the more relatable you'll be and the more they will trust you (assuming you don't do sketchy things). 
For example, if you speak with a lot of sarcasm, let that reflect in your content.
Your passion will sell you and will help you stand out in a crowded inbox.
Return to Top of Email Marketing for Beginners


Success Step 4
Choose an Email Marketing Service
---
There are a large variety of email marketing services that exist because there are a large variety of businesses that exist and each of them need specific features and functions to run. 
Not all email marketing services are created equal and some are better suited for your needs than others.
Personally, I use Convertkit and think it's the best Email Marketing Service for solopreneurs, small businesses, and creators.
The trick is to find the best one suited for you. 
So how do you do that?
The easiest way is to check the comparison chart on our website after reading through the information in this guide.
The chart can provide you answers to many of these questions and give you an overview of a variety of EMS's that are currently available. 
First off, determine what your goals will be (as mentioned above) for building an email list and how you will use it (more on this in Step 7).
Are you a one person show, a small online business, small offline business, or a large business that sells products worldwide?
Will you send 1x per month or multiple times per week?
Are you sending free content occasionally or selling products frequently?
Will you need robust automations, integrations, and analytical reports or will basic data be sufficient?
Answering these questions will give you a better idea of what types of features you will need in an email marketing service.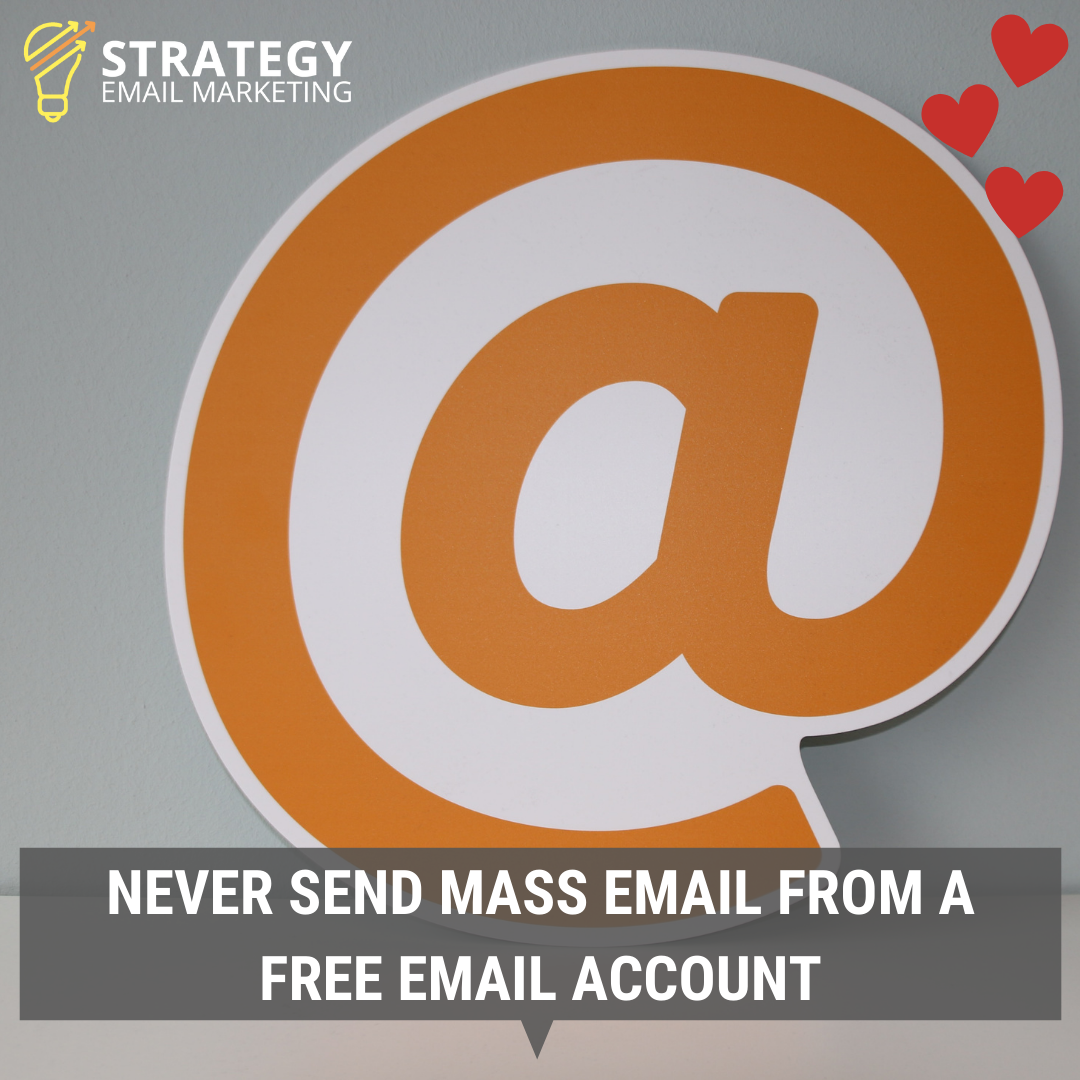 Next, find out if the EMS is compliant with GDPR and CANSPAM. These 2 laws have been around for a few years so most reputable providers follow them. 
I would be hesitant to use a provider that didn't follow these laws or fails to make mention of them. 
Once you decide on an Email Marketing service, follow their steps to set up your account. 
*IMPORTANT* When setting up your account you will be asked what email address you want to send FROM.
DO NOT send from a free email account like Hotmail, Gmail, or Yahoo. 
Besides looking completely unprofessional (you are in business after all), sending mass email from a free email account will highly increase the chances of your email ending up in the junk or SPAM folders and eventually get you blacklisted. 
Having yourname@yourdomainname.com is the ONLY way to go when sending bulk emails to your subscribers. 

If you don't have an easy way to get set up with this through your website or domain registrar, Google Workspace is really simple to get set up with your business email. 
I love the company I built my site through, but when it came to get my business email on my Mac through Apple mail and more importantly on my phone, I wasted hours trying to figure it out…
…and never figured it out. 
With Google Workspace/Gmail I had it set up on my Mac and my phone with 15-20 mins. 
It was that simple.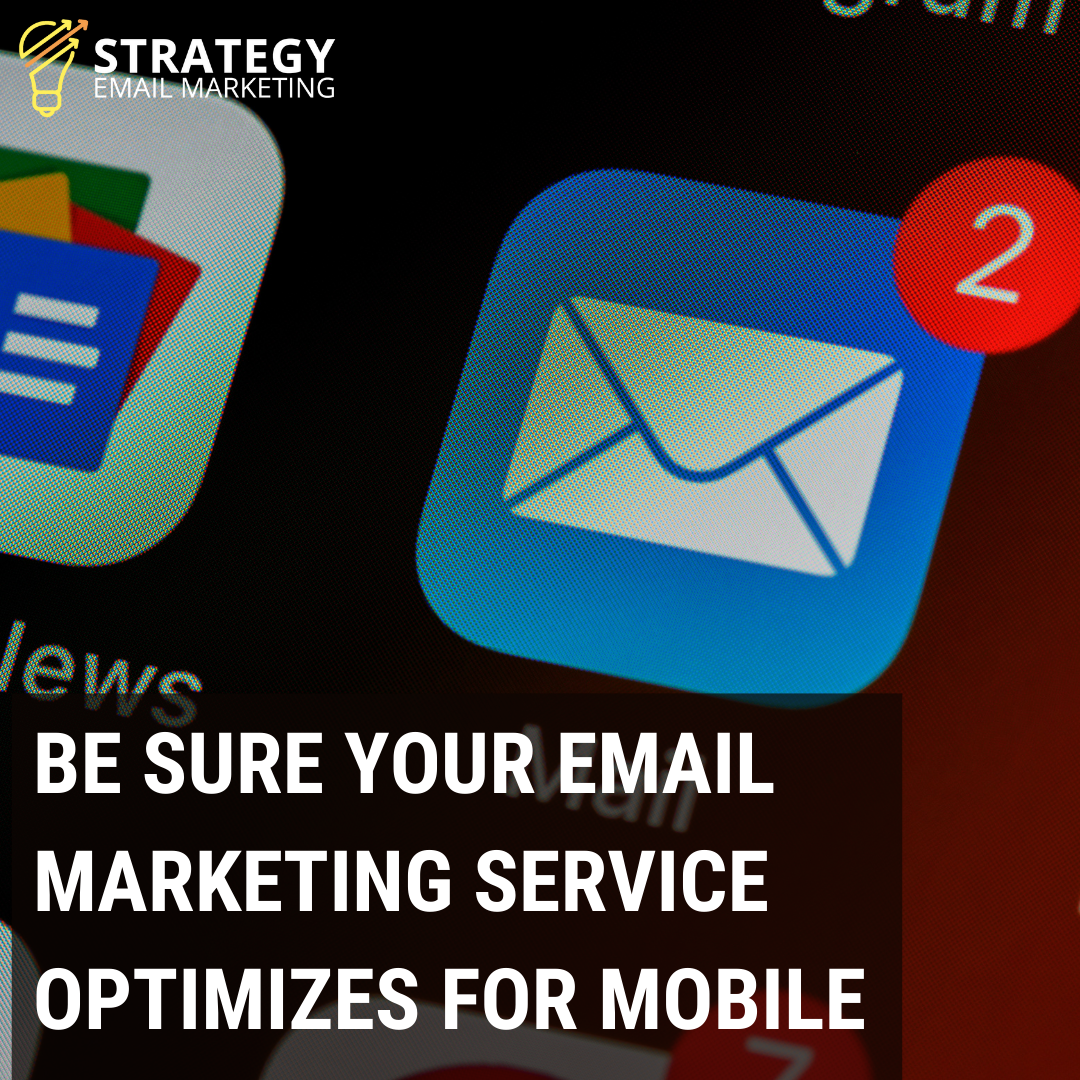 My final suggestion for choosing an email marketing service is to be sure the emails you send with that service are mobile friendly.
According to Statista, more than 83% of people in the world own a smartphone.
I don't know about you, but I primarily read email on my phone and have for years.
If your email marketing service doesn't send dynamic emails that adapt to being read on a computer or smartphone, I would find another service to use immediately. 
Not only are they jeopardizing your engagement, there's also a good chance that other parts of their service are out of date and not up to current standards.
You couldn't pay me to use a service like that. 
Onward to page 2...
Email Marketing for Beginners Online Guide

If you found this helpful, please share it and join our
free Email Marketing Wisdom Digest for more.


---
---