Email Marketing for Beginners:
Your Online Guide to Success - Part 2

Email Marketing for Beginners Online Guide
Success Step 5
Create a Form/Landing Page to Capture Email Addresses
---
Next you'll want to create a form or landing page so you have a way to capture your visitors email address.
This can be done in many ways and are explained in detail in this article on opt in email marketing.
In short, you can use and place a variety of sign up forms on your site, blog, or web store:
Slide in form
Floating (Sticky) bar at the top of the page
Side bar
In between content
At the end of a content article
In the Website/Blog Footer
On the About page
Landing page
Stand alone subscribe page
Homepage
Pop or Exit Intent page

A rule of thumb for creating these forms or pages.
Studies have shown that the more information you require people to fill out, the lower amount of subscribers you will have. 

But Luke, you say, I want to have as many people on join and stay on my list as possible!
While I agree with you that, remember what your goals are.
If all you want to do is build as big of a list as possible you will utilize the most basic email form which will only have one field for a reader to enter their email address and a button to click to subscribe. 

Personally, I think the least you should have on your form is two fields, one for first name and one for email address, doing so will allow you to personalize your message better for your subscriber.
However, if you have a more specific group of people (ex. structural engineers) you want on your list, requiring more form fields and information will qualify them since the "average" person might not go through all the work to sign up.
In short…
LESS Form Fields

MORE subscribers but LESS qualified.

MORE Form Fields

LESS subscribers but MORE qualified.


Return to Top of Email Marketing for Beginners


Increase chances of readers subscribing

A few ways to increase the likelihood of someone joining your list are to let your reader know that you will maintain their privacy and showing them past examples of what they are going to get.
I suggest using the phrase "Your information is 100% private & never shared." compared to "No Spam ever", or anything saying you won't "SPAM" them.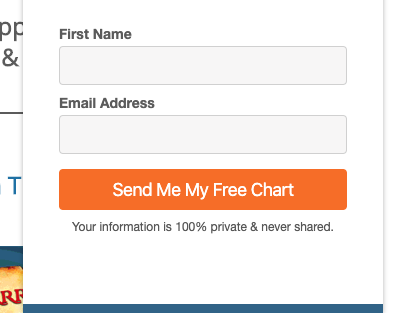 The first phrase instills trust, whereas, the second makes them think about the possibility of getting SPAM and how annoying that is and might have them rethinking signing up. 

Another way to build trust and increase subscribers is to link to a page that shows past examples of your emails. This gives your future subscriber a hint of what they will get from you when they sign up. 
Full disclosure decreases or removes concerns or hesitations that would otherwise keep readers from wanting to join your list. 
Lead Magnets are another extremely effective way to capture email addresses.
This is where you create something that your reader wants and offer it to them for free in exchange for their email address.

They are great for building your list faster since the user is rewarded for signing up.
Lead magnets should also be used to sell your product(s) since they can help you understand how interested your reader is in solving a particular problem.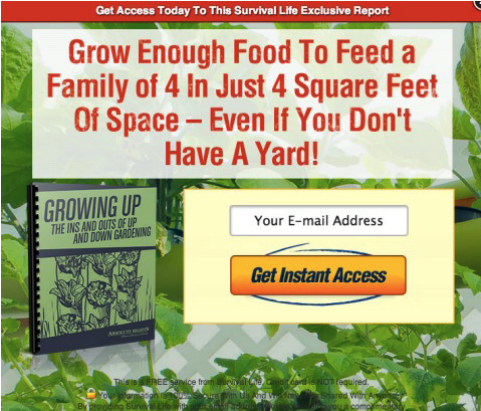 Building automated sales funnels from Lead Magnet forms is a little more advanced content for this page but if you are ready to dive into that checkout the fully automated email sales campaign.

It would be nice if your job was done after you have one or multiple forms in place, but alas, it isn't. 
Now that you have spent all your time creating your form and strategically placing it on your site, you would do well to A/B or split test it with another variation of the same form to maximize the amount of subscribers your form will get. 
Using different words in your copy and call to action, the placement of images, using a video instead of an image, and even the color and placement of buttons can all have a dramatic effect on the amount of people who will submit their email address on your form. 

Before getting overwhelmed with the thought of having to duplicate and babysit everything you just did…don't worry!
Many Email Marketing Services have the ability to A/B split test forms and landing pages built in to their service. 
The "hardest part" on your end will be to click a few buttons to set it up and change a few elements on the landing page or form. 
There's an entire science to crafting a highly converting landing page and if a single lead is worth a lot of money to your company I strongly encourage you to research LeadPages.
Their landing page software is one of the best if not THE best I have ever seen.

Return to Top of Email Marketing for Beginners



Success Step 6
Create Subscriber Thank You Page and Autoresponder

---
Now that you have created a form or landing page and have split testing set up to maximize conversions, let's shift to nurturing and retaining your new subscriber after they type in their email and click the "Subscribe" button. 
There are easy ways to automate this. 
The first way to do this is to create a "Thank you for subscribing" webpage on your site that tells your subscriber what to do next. 
Most Email Marketing Services will have some type of redirect page or pop-up telling the reader they have successfully subscribed.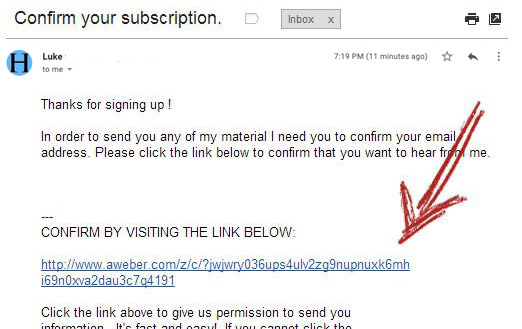 While this is technically "sufficient", it doesn't provide your subscriber with any direction on what to do next. 

They don't know when they will hear from you, how often, or what to expect.
I don't know about you but when I subscribe to a website that I don't know very well yet, I'm usually concerned about what they are going to do with my email.
I want to know what to expect. 
Solve this problem and put your subscriber at ease by redirecting them instantly to a "Thank you for subscribing" page that tells them what to do next and what is going to happen.
On the "Thank you for subscribing" page let your reader know you just sent them an email, what the Title of the email is, who it is from (your company name or your name), and instruct them to look for your email in the Junk or SPAM email folders if they can't find it in their inbox. 
Tell Gmail users to move your email into their inbox if they find it in the social or promotions tab. Gmail accounts for almost 30% of all email accounts in the world, so be sure to have that base covered.
The content of each "Thank you" page will differ based on if the reader is simply signing up to receive email from you vs. if you offered a lead magnet in return for their email address.


Return to Top of Email Marketing for Beginners


If Subscribers just join your list

Be personal and add something relatable along with your instructions on what they should do next.
I show a picture of myself and my wife on my Speech Therapy website. You could do something similar or if you really want to get fancy you could have a gif or even a video on this page.
Your creativity is your only limitation here.
Just remember the goal is to get them to go to their inbox and engage with the email you sent, not distract them.
You will ultimately have to decide that for your audience, I'm just trying to open your mind to the possibilities!


Return to Top of Email Marketing for Beginners


If Subscribers join for a lead magnet

Explain what they will need to do to obtain it, an image to remind them of what it looks like, and a screenshot of the action they will take in the email.

One strategy I've seen and used in the past has a link to the lead magnet on the "Thank you for subscribing" page.
Giving the lead magnet instantly can be a good thing for your reader, but it can be problematic for you if they don't go to their email to get it because it will decrease your ability to build a relationship with them.
There will always be a percentage of readers who will only subscribe to get your free lead magnet but you have so much more value to give them and they will only get that if they start engaging with you. 
Doing all of this may seem a little overkill, but trust me when I say it will pay dividends for you in the form of engagement and sales in the long run.
Every touch point your reader has with your content along the way builds trust, strengthens branding, and increases the likelihood they will engage not only with that first email but with future ones.
Broken record alert: It is very important that your newly subscribed reader engages with your first email!

Return to Top of Email Marketing for Beginners



Engage subscribers with a Welcome Series

This leads us to our next step…
…sending the welcome email series.
This is the final piece of the entire process.
It is a 4 part email series you will send your new reader all on auto pilot.
This series should be automated to send within the first 5-7 days after your reader subscribes.
The first email will go out instantly after they subscribe and read your "Thank you for subscribing" page.
In this email you will introduce yourself and tell your subscriber what they can expect from you giving 3-10 bullet points about the type of valuable content you will send them.

Let them know how often you will send to them and how much of each of the types of content (info., sale, survey, etc.) you will send.
Tell your subscriber what your purpose(s)/goal(s) are in sending them emails, ask them to whitelist your email address, include instructions on how if you think it's necessary, and invite them to join you on social media.
The 2nd email will go out 1 day after.
The 3rd email goes out 2 days after.
And the 4th email goes out 4 days after.
Get the detailed version of this welcome series with step by step instructions for setting up yours and tailoring it to your reader.
"Companies using email to nurture leads generate 50% more sales ready leads at 33% lower cost."
- Hubspot

Return to Top of Email Marketing for Beginners


Email Marketing for Beginners Online Guide


If you found this helpful, please share it and join our
free Email Marketing Wisdom Digest for more.


---
Email Marketing for Beginners
---