9 Opt In Email Marketing Tips to Turn Readers into Subscribers

These opt in email marketing tips will turn your readers into subscribers.
In another article you learned about the numerous places to put an opt in form, but there is an entire science to getting it to convert readers into subscribers.
How your form looks and what it says is crucial to getting readers to opt in.
Integrating these tips into your opt in forms will improve conversion rates and make readers happy to subscribe.

1. Walk Your Reader Through It
---
Set up an automated process that walks your subscriber through step-by-step.
If someone is willing to trust you enough to give you their information, make it really simple for them to sign up and don't let them fall through the cracks.
Make it easy for your readers to sign up and don't let them fall through the cracks.
For example, when a reader completes and clicks the call to action button on my site, I follow up with a complete opt in email marketing sequence.
Using this sequence walks the reader through the process efficiently, let's them know what to do and decreases the chances of them not completing the subscription process.
All of this is automated and ensures that I'm doing everything I know how to qualify subscribers to my list.
2. Specify Frequency
---
For a standard "Join Our List" form, tell people exactly what to expect and when to expect it.
In general, people like to know what they are "getting themselves into" and don't like to deviate from that.

Will you email them 1 time per week or 1 time per month?

What will the content you send be about?
What kind of value will you deliver?
Doing this will also qualify who signs up to receive email from you. If I'm an accountant, I'm probably not going to want emails from the blog below.

Another excellent way to show what subscribers can expect, is by linking to your message archive or a page that shows a few examples of what your email(s) will look like.

Return to top of Opt in Email Marketing Tips


3. Use Social Proof
---
Social proof comes in different forms.

Some email services have counters that allow you to show the amount of subscribers you have. You can use that or type it in near the form on the page.
There's also the option of making your own testimonials and putting them near your opt in form.
These can dramatically increase credibility and subscribers.


4. Remove "SPAM" from Privacy Statement
---
Always use a privacy statement but avoid using the word "SPAM" in it.
I've seen thousands of opt in forms in my day and many of them say "No SPAM" or "Never spammed".
By using the word SPAM your reader may sub-consciously think about the potential of being spammed and may reconsider subscribing.
Use a combination of words to tell your potential subscriber that their information is private, secure, and won't be shared.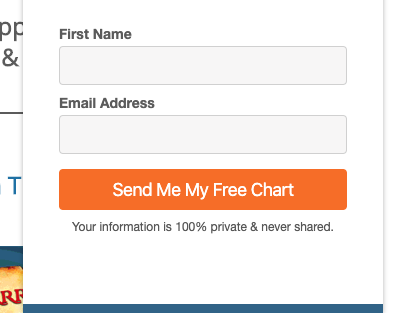 Return to top of Opt in Email Marketing Tips


5. Use a Creative Name
---
Call your newsletter something better than a "Newsletter"
Be specific about naming what your reader will get by subscribing.
If you will send cooking tips or recipes, don't just put "Sign up for Cool Recipes" on your form.
Instead, think about your niche or what types of cooking you talk about in your content, or more importantly what type of cooking your product can do.
If your niche or product focuses on Avocados for example, you might call your "Newsletter" the "The Awesome Avocado Angle" or "Actionable Avocado Advice".
You don't have to use alliteration of course, but it adds a little more fun to it.
And the more fun, or professional, or unique you can make it the more subscribers will look forward to hearing from you.
6. Use a Lead Magnet
---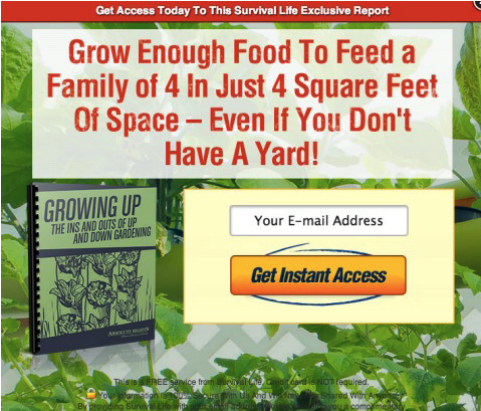 A lead magnet is relevant and enticing thing offered to your reader in exchange for their email address.
Sometimes referred to as "bait", lead magnets come in many shapes and sizes and are used to get leads/subscribers ranging anywhere from "Raising Chickens" to "Cloud Computing".
In order for your lead magnet to have maximum impact, it must have the following qualities...
Great lead magnets:

provide an instant solution to a very specific problem that a very specific audience has.
are quick to consume and offer instant gratification (not a newsletter or 30 day course).
are highly valuable and are believed to be highly valuable
promises "1 big thing" (not many little things)
addresses a known desired end result
give hope and belief to your reader that she can achieve her desired result

Return to top of Opt in Email Marketing Tips



7. Specific CTA
---
Let your personality shine in the form by using your own language and saying something more exciting than just "Subscribe".
A Call to Action (CTA) must be just that. Words that motivate someone to act.
Test different variations to see which CTAs convert higher.
Perfect example:
The website Empire Flippers A/B tested 2 variations of a Call to Action for their readers to learn how to flip websites.
Can you guess which one did better?
Version B increased conversions by 33.1%!
Specific CTAs are a very important component to your opt in email marketing forms and it is essential to you use CTAs that resonate with the readers you want on your list.
8. Give Subscribers a "Way Out"
---
To do opt in email marketing effectively, you must (by law as well as common decency) allow them a way to "Unsubscribe" or stop receiving emails from you.
As mentioned above, failure to do this can land you a lot of trouble.

Return to top of Opt in Email Marketing Tips


9. Limit the Amount of Form Fields
---
The amount of fields you use is highly dependent on your goals, but must be considered to reach them.

To get the most subscribers 1-2 form fields for "Name" and "Email" are best.
I prefer to get the name of my subscribers so I can personalize emails to them.
However, if you are doing more Business to Business prospecting you might use a longer opt in form with more fields to highly qualify your subscriber/lead.

A few years ago (2015) Ascend2 and their partners did some research on conversion rates based on how many form fields were displayed and though their subjects were primarily B2B audience, their results were revealing.
These opt in email marketing tips are only important if you want to grow your email subscriber list.

Your success will increase as your list size increases and these tips will make that happen.

Start implementing them today and watch your subscribers grow!

If you found this helpful, please share it and join our
free Email Marketing Wisdom Digest for more.


---
Opt in Email Marketing Tips
---